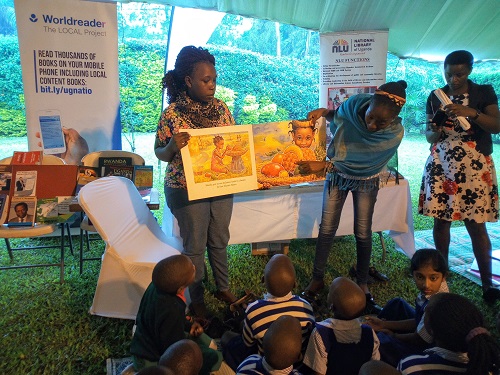 One of the functions of the National Library of Uganda is to promote the habit and culture of reading among Ugandans through reading campaigns and book exhibitions. In light of this, the National Library of Uganda endeavors to instill and promote a culture of reading among Ugandans through organizing children's reading tents every year, where children come and engage in various activities like reading (physical books and e-readers), drawing, spelling, story writing competitions, and book-making activities.
Objectives of the Children's Reading Tents
To display and make available a variety of reading materials to the people, especially children of a given community.
To promote a shared delight for reading among children.
To give children an insight into the process of reading, writing, and other means of expression such as storytelling, poem recitation, drawing, and singing.
To promote publicity of a given public/ community library to the community.
The National Library of Uganda has organized various Reading Tents; our most recent Reading tent was held at Mummy Foundation Community Library in Katwe, Kiganda Zone. Other Reading tents that were organized previously include;
National Library of Uganda, in partnership with Kigumba Town Council and Harris International (Riham Group), organized a Reading Tent at Kigumba Public Library. It was held at the Kigumba Church of Uganda Primary School on 16th April 2019 and was part of the World Book and Copyright Day celebrations to pay tribute to books and their authors as a way of promoting reading, publishing, and cultural heritage.
The National Library of Uganda participated in the Kampala Cultural Exchange event, which was held at Seven Trees Gardens, Wampewo Avenue in Kampala on 30th June 2019 under the theme "Celebrating cultural diversity and enhancing talent development among the youth". A reading tent was organized for children to learn how to read and engage in book art.
The National Library of Uganda also celebrated World Literacy Day with Nambi Sepuuya Community Library in Jinja on 20th September 2019, where we provided reading materials to the Library.
In 2021, the National Library of Uganda celebrated DEARDay at Tusome Reading Club in Gayaza.